It doesn't need to be said that the year 2010 was already bringing me lots of new experiences, to say the least. By the time March came around, I had clearly already shaken up things in my dating world. It was time to make some big life moves.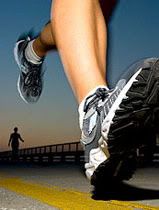 For a while, I had been staying in shape by working out regularly and was for once really enjoying working out and eating healthy. Not to mention, Stella had a positive effect on my eating habits, as I had no appetite the whole month of January and lost 10 pounds…best diet I've ever been on. I was getting a little bored with my regular workout routine and was ready to challenge myself a little more. I've never been much of a runner. Between my D/DD breasts and a lack of endurance, any attempt at becoming a runner wasn't very successful in the past. One day at work, we were talking about working out and next thing I knew, my coworker Russell (who is also my very dear friend and referred to by me as my gay uncle) and I had signed up for the
9th Annual UMC Windermere Run Among the Lakes
. I was about to attempt to run my first 5K and only had about a month to prepare. I wasn't trying to come in first place; I wasn't even trying to run fast. I just wanted to run the entire thing and that I did.
On the most beautiful morning in April, I finished the run in 35 minutes and my mom, my biggest fan, my soul sista…was waiting at the finish line cheering me on. I'm getting teary-eyed just thinking back on it.
I had been house hunting for about a month. Being so happy with my life and living life for myself, I had come to the conclusion that I didn't see myself leaving the Orlando area any time soon. It was time to get settled somewhere of my own. No more moving every 6-12 months, no more keeping my favorite things in my parents' garage, no more throwing money away on rent. The moment I walked into the cute, three bedrooms, two and a half bath townhouse in Winter Garden, I knew it was the one.
Buying a house is one of the most stressful and exciting things I've ever been through. I moved into that house on May 20, 2010. I was sad to leave my very best friends and roommates, but thrilled to be living with my sister who had been living in Texas for a few years. I won't get into the details of how exciting and overwhelming this process was, but I will say that I was reminded again how wonderfully supportive my parents are and how I can really do anything I set my mind to.